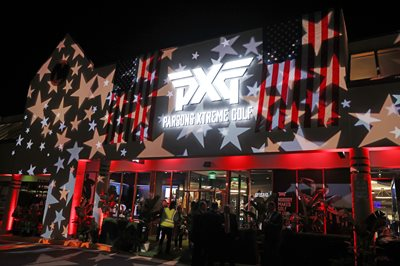 Last night, PXG honored its roots during an event that exuded red, white, and blue in celebration of the opening of its PXG Fairfax store. Military veterans, notables, athletes, and clients alike, joined PXG Founder and CEO, Bob Parsons and President and Executive Creative Director of Apparel, Renee Parsons, for the all-American celebration of the new retail store.
Opening a storefront in Fairfax, VA was a natural choice for www.pxg.com as the Washington, DC metro area ranks the 7th largest golf market in the country based on number of golfers. The area also boasts 79 golf courses in a 20-mile radius, including some of the most famed private courses in the region and the much-respected Army Navy Country Club. Located at 9600 Main Street STE P, Fairfax, VA, 22031, less than an hour away from Bob Parsons' hometown of Baltimore, MD, and just outside of Washington, DC, the state-of-the-art facility supports an unparalleled shopping experience for golfers and non-golfers alike.

American-owned and America proud – the evening was decorated in stars and stripes. Guests walked the turf carpet and posed for pictures in front of a custom PXG Fairway Camo moss-covered step and repeat, feasted on bounties from the Eastern Shore such as crab crostata, and enjoyed cocktails and hors d'oeuvres as DJ Rowshay brought down the house.
Bob and Renee Parsons gave opening remarks followed by an inspired rendition of the National Anthem performed by Calvin Bishop and Big Swing & the Ballroom Blasters. The founding couple made it official with the cutting of a ceremonial ribbon alongside Fairfax Councilmember, So Lim and flanked by two PXG Heroes Squad members Chris Nowak and Stephen Turbo Toboz.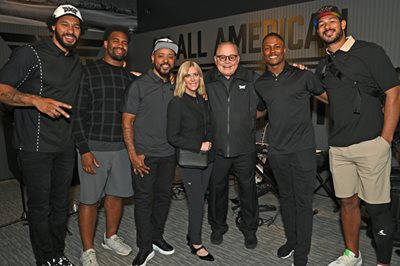 The Parsons celebrated with noteworthy guests including Santana Moss, Jonathan Allen, Logan Thomas, Montez Sweat, Terry McLaurin, Josh Jackson, Ken Harvey, Rahiim Moore, Therese Holland, Cathy Kim, and Bryce Cope.

PXG Fairfax's 7,000 square-foot facility features an expansive retail showroom with PXG's latest apparel, accessories, and bags, expansive golf club fitting bays powered by TrackMan technology, and a dedicated putter fitting studio and practice putting green. A relaxing customer lounge area tops off the in-store experience, offering customers the opportunity to relax after a fitting or watch the latest golf tournaments.