A mean aesthetic backed by our industry-leading engineering, PXG 0311 XP GEN5 Irons deliver insane performance and a shocking level of forgiveness. Complete with a patented core material, breakthrough head design and weighting technology, and significant offset - these irons were made to deliver profound off-center forgiveness. A wolf among sheep, GEN5 Irons establish the benchmark to which all other game-improvement irons will be measured.
Precision Weighting Technology
One heavy weight located near the CG on the back of the clubhead allows golfers to experience various head weight configurations during a fitting to achieve optimal personalized performance.
WHO THEY'RE MADE FOR
Engineered for any golfer who desires maximum forgiveness and a confidence-inspiring head shape.
Technology That Performs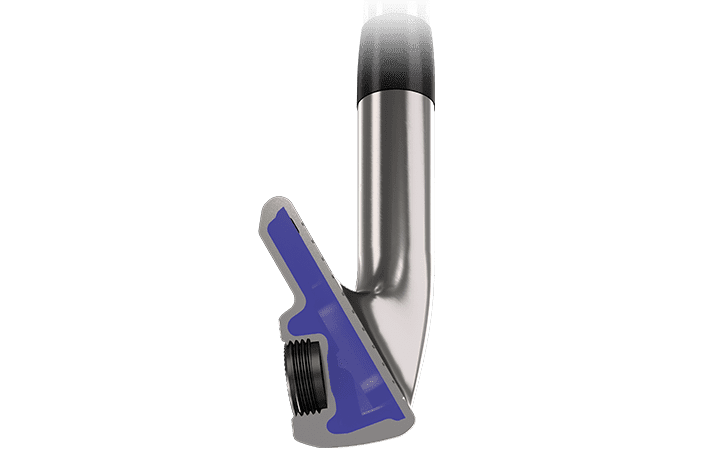 XCOR2 TECHNOLOGY
A result of years of research and development, XCOR2 is PXG's revolutionary polymer core material, designed specifically for GEN5 Irons. Extremely lightweight, XCOR2 helps reduce the mass of the core. This enables more weight to be positioned low and to the perimeter of the backside of the clubhead, dramatically increasing MOI and forgiveness. Combined with our ultra-thin face technology, XCOR2 enhances the C.O.R. for extreme face deflection and out of sight ball speed.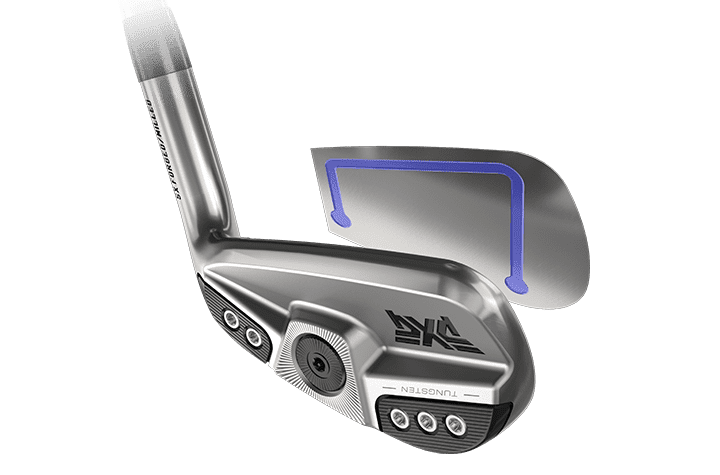 POWER CHANNEL TECHNOLOGY
Power Channel Technology is the proprietary U-shaped corridor built into the internal surface of the face to increase deflection and bend in the top sector. The channel creates face movement and transfers energy to simultaneously increases launch angle, trajectory, and ball speed.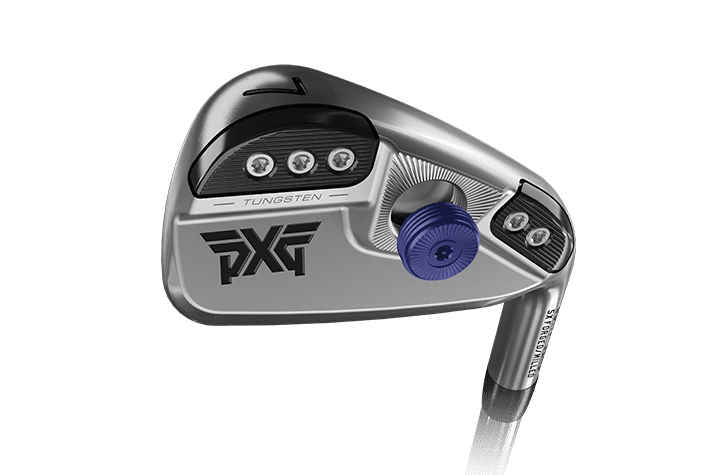 PRECISION WEIGHTING TECHNOLOGY
GEN5 Irons feature five tungsten heel/toe weights and one large weight located near the CG on the back of the clubhead. The large center weight can be used to achieve optimal swing weight. Customers can experience Precision Weighting Technology adjustments during their in-person fitting with a PXG Fitting Specialist. Weighting is not intended to be adjusted after purchase.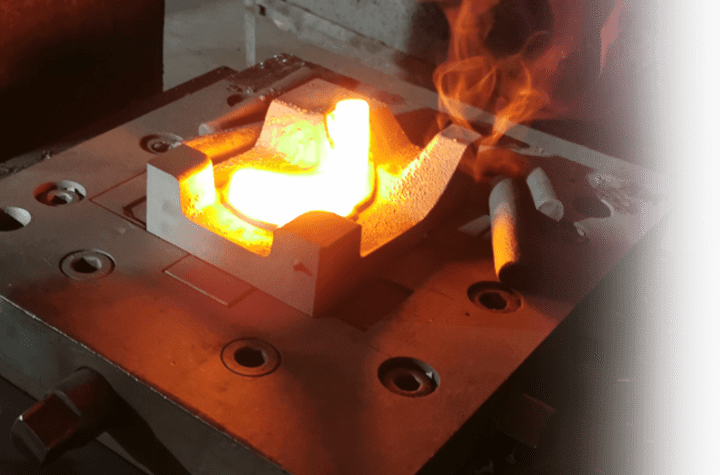 5X FORGED
Each iron is five-times forged from 8620 soft carbon steel, creating a tight grain structure that increases its strength, prolonging the life of the grooves and enhancing the overall feel and appearance.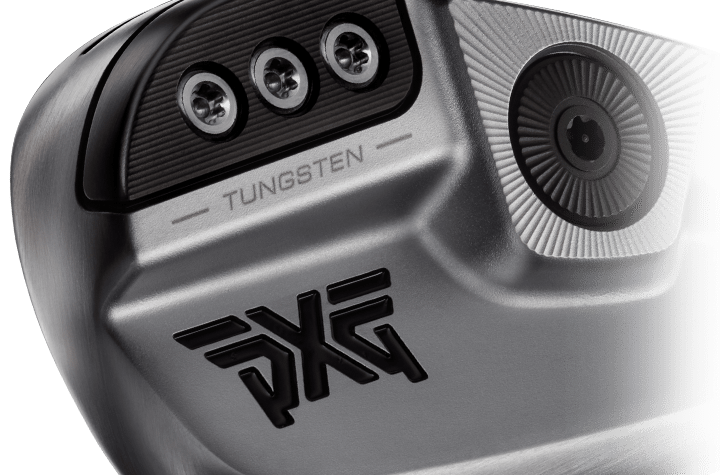 MILLED BACK SURFACE
Milling the back surface of each iron is a high-precision process that reduces the wall thickness more than forging alone could achieve, to create a high-performance body design and an enhanced aesthetic.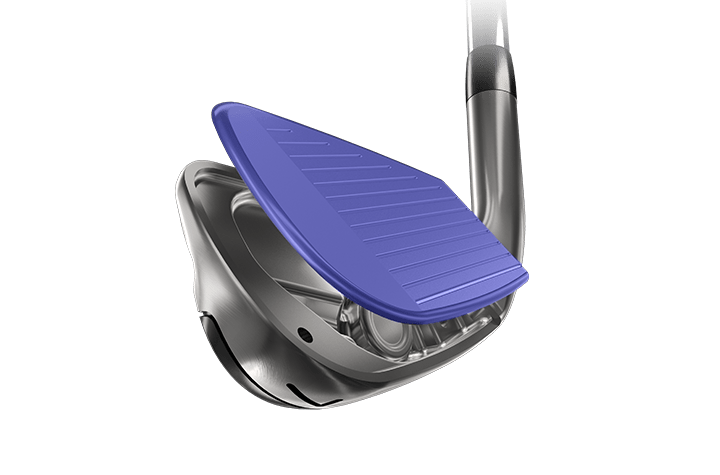 ULTRA-THIN FACE
Since PXG's inception, our brand has maintained the thinnest face in golf. An industry breakthrough, our ultra-thin face technology continues to deliver unmatched feel and mishit performance. Combined with our proprietary XCOR2 Technology, GEN5 Irons offer our highest C.O.R. performance ever. Made from high strength HT1770 maraging steel and measuring a mere 0.058" (~1.55mm) thick.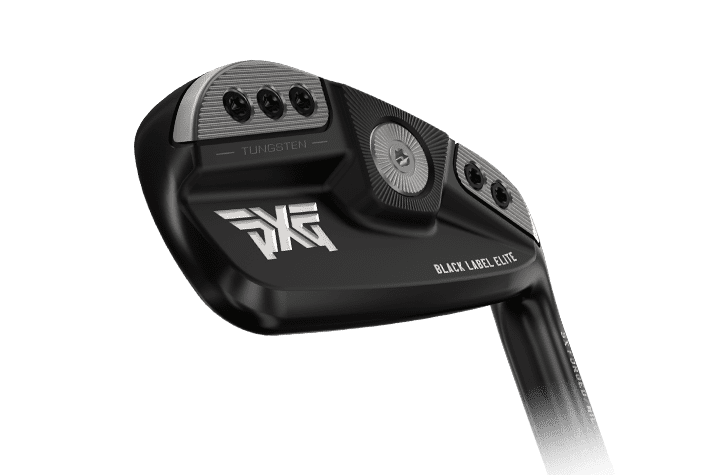 XTREME DARK
PXG's stunning Xtreme Dark irons are created using an advanced process called Diamond-like Carbon (DLC) coating. DLC creates a hard, graphite-like, carbon-based coating that significantly extends the reasonable lifetime of our Black Label irons and wedges. Unlike the typical black PVD used by other equipment manufacturers, DLC is a three-layer process that includes a chromium base, a carbon-chromium mid layer, and a high-carbon top layer that is approximately 3/25,000 of an inch thick. This produces extraordinary wear resistance and a flawless look without influencing club performance relative to how the ball reacts.
The DLC coating is currently used in fuel injection systems and drilling and has a number of other promising applications for its superior abrasion resistance. PXG's Xtreme Dark finish is the first application of black DLC coating technology in golf.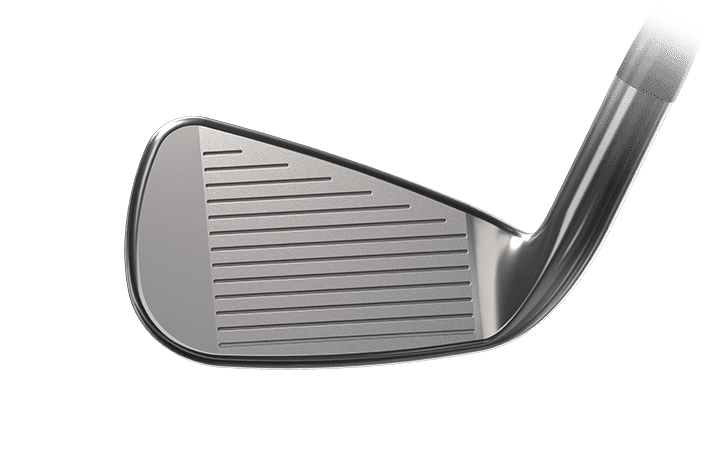 ROBOTIC PRECISION TECHNOLOGY
GEN5 Irons undergo a precision robotic polishing and laser welding process. Robotic polishing creates an extremely precise manufacturing process that supports consistent sole and face perimeter geometry with every club. Robotic laser welding the face around the outer perimeter of each club reduces the heat affected zone and provides a high strength and precise attachment method.
[The carousel navigation will be output in this spot and this message will not appear]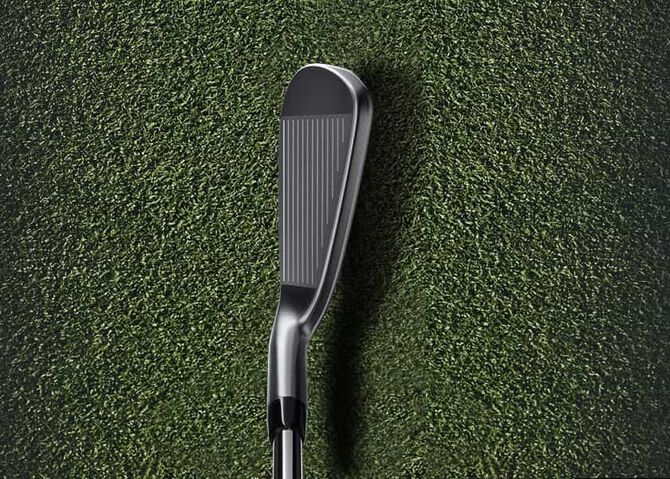 Unbelievable Forgiveness

Exceptional Distance

Confidence-Inspiring Design

Fast Ball Speeds

Incredibly Soft Feel

Remarkably Rewarding Sound
PXG 0311 XP GEN
5

Irons SPECS
Club
Lofts
Standard
Length (Inches)
Standard
Lie
Offset
(inches)
Bounce
4
18°
39.375"
60.5°
.240"
6°
5
20°
38.75"
61.0°
.210"
7°
6
23°
38.125"
61.5°
.180"
8°
7
27°
37.5"
62.0°
.150"
9°
8
31°
37"
62.5°
.120"
10°
9
36°
36.5"
63.0°
.095"
11°
W
41°
36.25"
63.5°
.070"
12°
G
47°
36"
63.5°
.060"
12°
QUICK 0311 GEN
5

IRONS COMPARISON
0311 T Irons
Minimal offset, thinner sole, and shorter blade
Built for the skilled golfer seeking control and workability
0311 XP IRONS
Significant offset, wider sole, and longer blade
Built for those seeking maximum forgiveness
WE GOT YOUR STICKS. PERIOD.
Performance is our only measure of success. That's why the nitty-gritty details matter – so your clubs feel like a hand-tailored Italian suit. On the off chance you discover that your club specs could use a little tweak, don't sweat it. Parsons Xtreme Golf always backs your play. As our performance promise, we offer a complimentary spec check at our retail locations and fitting studios within 1 year of club receipt. If you need us, give Sales & Support a call at 1.844.PLAY.PXG to get on the books.
0311 XP GEN5 Irons - Xtreme Dark
Rated

5

out of

5
by
CodeyB
from
Best you can buy in this category of club, by far!
Had these Gen 5 T's fitted for me at a local course. My fitter Ty was amazing! Got me set up perfectly, and I couldn't believe the feel of these clubs. I had been hitting blades before this that were about 12 years old, and wanted a little more forgiveness than a blade, but still be able to shape shots decently. These clubs were definitely the answer, and some! The forgiveness is insane compared to my old blades, and I feel the shot shape accuracy is a significant improvement. I'm no longer afraid to try and bend the ball around the green or obstacles! These clubs are nothing short of amazing! On a side note, thank you pxg for the heroes program, and letting me pick up the best clubs on the market and not break the bank! I had tried so many clubs before this and never found what I was looking for until I got my hands on these!
Date published: 2023-03-27
Rated

5

out of

5
by
JPplaysPXG
from
Get Fitted at PXG
Due to health reasons, I had not played in about 2 years. I really liked my previous irons, but they were just too hard for me to hit consistently. I booked a one hour fitting at your Oak Brook Terrace location. My fitter, Joe Tumpach, was great. He was extremely knowledgeable about golf, club fitting, and most importantly, PXG. He put me in a set of Gen 5P irons and they are terrific giving me a traditional look and are extremely forgiving. I highly recommend a PXG in-house fitting. You won't be disappointed.
Date published: 2023-05-20
Rated

5

out of

5
by
AllenB
from
Love My Gen 5's
I played Titleist sticks for probably the last 15 years. My Gen 5's are the best clubs I've ever owned...period.
Date published: 2023-03-02
Rated

5

out of

5
by
Kevin
from
Beautiful looks, Great feel Great irons!!
I have owned and played the PXG gen 1 and gen 3 irons and loved them. I'm a plus handicap golfer that lives in the NW and plays a lot of golf for fun and in tournaments. I have played many different irons and I believe the PXG irons are far and away the best irons I have ever played. The gen 5 irons are butter soft and so accurate. I bought mine on line from PXG with stock shafts because I wanted to make my own clubs. I pulled the shafts the day I received them and put in the new fujikura axiom shafts. The combination is unbelievable. In my first two weeks of playing the clubs I shot a 66 a 67 and a 69 which also included a hole in one. A lot of my friends have bought PXG irons also and they love them. I can't say enough good things about the looks and feel of these irons. I bought these after the gen 6 came out so the price is excellent! If you haven't tried them at a fitting its very much worth it. Play well! Hit em straight!
Date published: 2023-07-02
Rated

5

out of

5
by
Big B
from
Absolute perfection!
I have now played 3 rounds with my new 0311P irons and could not be more pleased. There are simply no superlatives to describe my level of satisfaction. A huge "Thank You" to my fitter Carlo Oliva at PXG in Northbrook, IL. His patience, determination and knowledge were on full display as he guided me through the process as I struggled to find my swing. He is a true professional. I hover around a 15 handicap and have struggled with my ball striking for many years. With my new irons I have played 27 holes and I have missed the middle of the face only 3 times... This is an absolute miracle for me!!! Thank you to Mr. Parsons for his foresight and to everyone at PXG who brings these products to life!
Date published: 2023-05-03
Rated

5

out of

5
by
SasquatchTour
from
Gen5 0311T
Excellent feel, good feedback and outstanding forgiveness for a tour head. The 0311T combos great with both the 0311P and the 0317 ST. Depending on loft adjustment when built it can play like a players distance iron or if lofted up have nearly identical launch and spin numbers to a blade just having extra forgiveness built in. I personally combined the 0311T in the mid irons with the 0317 ST short irons and 0311P in the long irons. The advantage of the 0311T in the mid irons is I can still hit a low/mid trajectory 3/4 shot that has enough spin to stop which I couldn't get out of the 0311P model. The Dark finish does last quite well. Very impressive iron lineup from PXG.
Date published: 2023-08-22
Rated

5

out of

5
by
Big Game Jim
from
Happy Times
I live in Arizona, and I purchased Gen5 irons (5-PW), two fairway woods (3 & 5), and hybrid (22) about three months ago and these are the best feeling irons I have ever played, including Mizuno, Ping, and Cobra in the last 5-6 years. I am hitting the ball higher and straighter. Life has gotten in the way of me playing my usual 2-3 times a week, but that is about to change. My handicap has already dropped. I also have the PXG Spitfire putter which I just love.
Date published: 2023-03-17
Rated

5

out of

5
by
KBinCT
from
I'm in love (with my 0311 irons)
Purchased 4 thru PW to replace my 30 year old irons in early April . These irons show up to play every time I'm on the course. With my old set, I'd hit my 7 iron for about 135 yards carry. With my new 7 iron, I'm carrying about 150 yards! These clubs are game changers. I've only had them a little longer than a month, so I'm recalibrating all my distance. Once I get that figured out, look out! These sticks hit long, straight and pure!
Date published: 2023-05-20
bvseo_sdk, dw_cartridge, 21.1.0, p_sdk_3.2.0
CLOUD, getReviews, 5ms
reviews, product