PXG GEN2 Putters
High-Performance Putters to Suit Any Stroke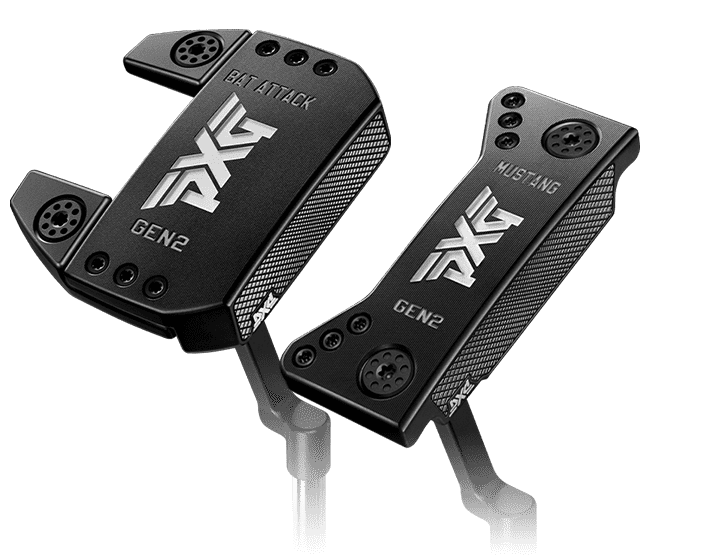 GEN2 SPITFIRE
/
TACTICAL PRECISION
The Spitfire presents a clean and unique design that is extremely easy to align and exceptionally forgiving, helping golfers lock-in on their target and hole out putts.
GEN2 BAT ATTACK
/
CLEAN & EFFICIENT
Our GEN2 Bat Attack is an incredibly clean and efficient modified mallet-style putter with distinctive heel-toe wings designed for improved alignment and consistency.
GEN2 OPERATOR
/
DIALED-IN PERFORMANCE
Extremely forgiving, mallet-style putter engineered to be finely tuned for an individual's stroke style. The Operator is designed for those seeking advanced customization and exceptional forgiveness.
GEN2 GUNBOAT
/
STEADY & SMOOTH
The Gunboat is a modern, extremely high MOI mallet-style putter offering increased stability and forgiveness.
GEN2 MINI GUNBOAT
/
SMALL BUT MIGHTY
The Mini Gunboat putter combines the forgiveness and visual alignment aids of the original Gunboat putter with the versatility of a smaller profile.
GEN2 LUCKY D
/
MODERN & LIGHTWEIGHT
The Lucky "D" is modern take on a traditional mid-mallet design. The tour inspired teardrop design minimizes distractions and draws attention to the high-contrast alignment feature. This putter is lightweight for excellent control.
GEN2 CLOSER
/
THE STABLE BLADE
Wider bodied blade-style putter for increased stability. Similar to Mustang in MOI performance with more traditional blade-style aesthetics.
GEN2 MUSTANG
/
ATTENTION TO DETAIL
The Mustang has a unique, high MOI putter with a blade-style design that features extreme heel-toe weighting, enhancing confidence at address and the ability to hole out putts.
GEN2 BRANDON
/
THE MODERN TRADITIONALIST
The Brandon is a modern take on a traditional blade-style design.